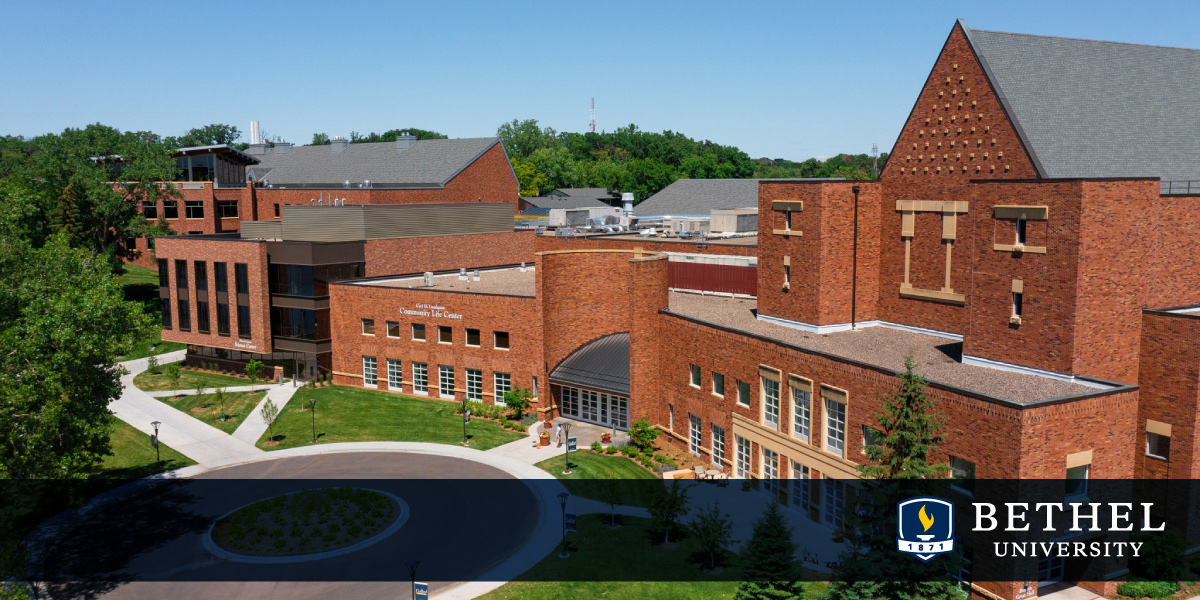 Melissa (Haunty) Shackelford '11 chose Bethel so she could participate in a wide variety of experiences and activities. And she took full advantage of the wealth Bethel had to offer. Specializing in communication arts and literature, Shackelford reveled in her involvement in the humanities curriculum, with faculty who were supportive and approachable. She found a sense of community through the Bethel Choir, exploring her leadership gifts by serving as business manager and prayer chaplain. And she had a life-changing study abroad experience. "Through all of my college experiences, I felt like I was developing a lens to see the world," she says.
Today, she brings that holistic perspective to her role as Director of Curatorial Programs and Community Impact for Upper House, a center for Christian gathering and learning located on the campus of the University of Wisconsin-Madison. . Upper House provides a place for the exploration and education of the Christian faith – serving undergraduate and graduate students, faculty/staff, clergy, ministry leaders, market professionals, Madison's artists and community. "We seek to integrate faith, ideas and communities with academics, the marketplace and the church," says Shackelford. "We focus on integrating the Christian faith with different fields of study, issues of culture and callings of individuals around the world – helping them see the connections that deepen their sense of identity and purpose. and increase their understanding of how the kingdom of God is at work in their jobs and daily lives.
A typical day for Shackelford is a mesh of creativity, program development, staff management and community outreach. She can oversee and mobilize a team, plan an event and write a program outline, chat with a speaker, partner with another organization, or lead a strategic planning meeting. In Upper House's dynamic programming environment, she describes her role as "translating creative energy into practical next steps" and says it balances her love of creativity and structure, allowing her to use the expanse of their skills and abilities. "I have a passion for harnessing a speaker's expertise and creating a program experience that showcases the best of what God does in and through His work," she explains. "Other times, I see a community need that inspires a particular program idea. For example, last spring I co-hosted a month-long art exhibit called UNVEILED, featuring the work of local artists, designed as a prayer walk for community members to get acquainted gradually with the arrival in our space after a year of pandemic. It is an honor to be able to serve the wider church in the city of Madison and to champion the kingdom of God at work in all spheres of culture.
It's hardly surprising that Shackelford is also involved in many other areas of community service and creative initiative. Before joining Upper House as the third member of staff in 2015, she ran her brother's art business, Inspiring Art by Alex, and together with her family founded the non-profit Alex Haunty's Theater and Arts Fund, Inc., to create access to the arts. for people with disabilities. She currently sits on the organization's board of directors, as well as the board of Inspiring Hope Ministries. "The arts have always been a significant avenue of growth and joy for me, including my time at Bethel Choir," she says. "There's nothing like creating something in the community, like choral music, that you can't do on your own. And I think it's important to make this opportunity available to others who haven't had the chance to explore their creative gifts.
Shackelford is also passionate about relationships. She sees the myriad of connections God made during her Bethel experience that prepared her for a future she could not have imagined. "When you start college, it's easy to think and hope that the path forward will be linear," she says. "But that's usually not the case. It's also easy to feel pressured to produce and perform, but I think God delights in our process much more than the product. I have seen God reconnect to my Bethel experiences in the humanities, choir, and study abroad and integrate them into my life today. God wastes nothing. Trust God that what you're investing in now is worth it, even if you don't see where it's taking you. You don't have to be the one to connect everything. You will be surprised how God makes these connections for you at the right time.