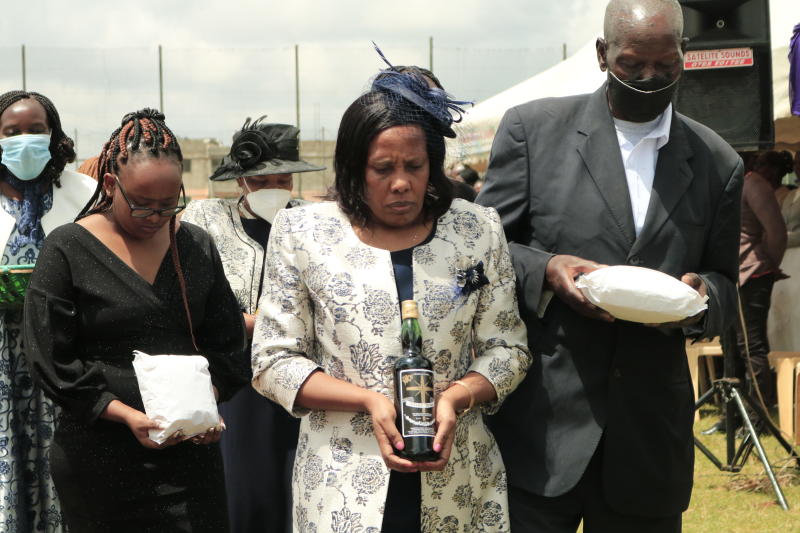 A low-key ceremony marks the burial of Kiambu businessman Peter Njenga
A shopkeeper whose body has been in the morgue for a month was finally buried on Wednesday. Peter Njenga, a businessman from Kiambu died on February 20, and his mistress obtained a court injunction against burial until she was recognized as a second wife.
Njenga's wife was slapped on March 2 by court order as family members gathered at the Kenyatta University morgue to collect her remains.
Njenga, who is associated with wealthy businessmen, was buried in a low-key ceremony. The mistress did not attend the funeral.
During the burial, Father Herman Wanyoike of Christ the King Catholic Church in Kagwe urged the men to refrain from illicit activities.
"I urge men to avoid having other women. This family has been through the most stressful time of their lives, especially the children. We prayed and finally justice prevailed. As of today, Kuria's family let Wambui, the legitimate wife, be the head of Njenga's family," he told mourners. The wife, Mary Wambui, hailed him as a good father, a caring husband and a man with a big heart.
Githunguri MP Gabriel Kago praised Njenga as a genius, glass ceiling breaker, bridge builder and philanthropist.
"If I go out with you and don't introduce you to my parents or siblings, then rest assured that you have no right to my property after I die," Kago told mourners.
The wife, Mary Wambui, hailed him as a good father, a caring husband and a man with a big heart.
"Although we had humble beginnings, he was armed with steely determination as his children said and he was determined to meet life's challenges and he did," she said. .
His employees at Uplands Premium Dairy and Foods Limited said he pushed his limits and built a business empire that has transformed the lives of many people in Kagwe village.
His lawyer and friend Issa Mansour said he epitomized hard work.
Njenga is survived by his wife and six children.