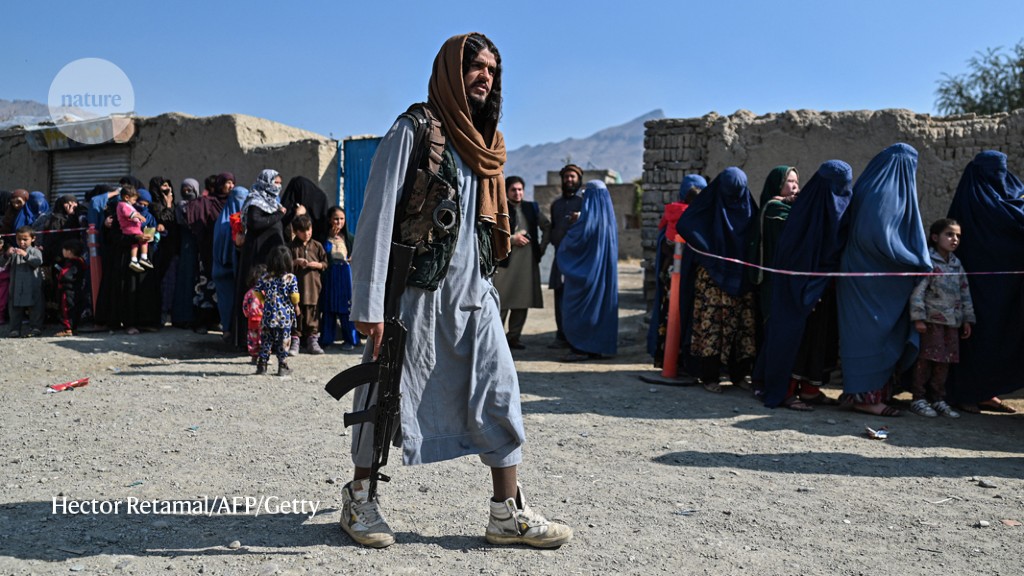 Afghan academics despair months after Taliban seizure
Four months after the Taliban took control of Afghanistan, academics say they feel abandoned, and abandoned by the international community. With limited research prospects, many scientists have left or are still trying to find ways out, so that they can pursue their careers.
Researchers say they have been robbed of their finances and academic freedoms and don't feel valued by the new government. Many continue to fear persecution because of their international connections, ethnicity or gender – or because they have criticized the government – and some say they have been threatened with death or retaliation by the Taliban .
"The current government has had a completely destructive effect on research," says Shohra Qaderi, originally from Afghanistan but currently studying clinical sciences and public health at Shahid Beheshti University of Medical Sciences in Tehran. "Research is a form of free speech for academics, but that freedom of speech was taken by the Taliban."
Qaderi was due to return to a university in Afghanistan earlier this year, but decided to extend his stay in Iran due to the dire situation for researchers.
The Taliban seized power in mid-August as the last troops of the US-led coalition that supported the previous government withdrew. But the wider international community has yet to recognize the current government. Billions of dollars in funding, assets and loans for government agencies and development and humanitarian services remain frozen. And research funding from international sources is no longer flowing.
Desperate situation
Some international donors are looking for ways to distribute funds through non-governmental channels, but this has taken time. On December 10, donors agreed to release US $ 280 million to UNICEF and the World Food Program to directly deliver essential health services and food assistance to more than 10 million people in the country.
Naturally, "research is not really a priority," says Jaffer Shah, a clinical researcher at Drexel University in Philadelphia, Pa., But who is based in New York and collaborates with colleagues in Afghanistan.
The country's 40 or so public universities and higher education institutions remain officially open, but are not effectively functioning. Researchers say government officials have asked staff to continue checking in, but classes are not working. Academic staff have not received their salaries since until August, and international funding for research projects has been suspended. Female faculty members are still allowed to work, with some restrictions.
"We're just wasting our time here," said a researcher who asked to remain anonymous. After the Taliban took power, they were still weighing their options, but now they are considering leaving the country as their research has stalled and their teenage daughter has not been able to attend school.
In August, the Taliban banned the co-education of male and female college students – and many public universities are still studying the practicalities of implementing separate education. The Taliban government has also placed representatives in public universities. In a widely reported case, the government appointed a vice-chancellor for the prestigious Kabul University, but staff members deemed the candidate unqualified for the post, leading to numerous resignations. He was then replaced by another candidate.
Stalled search
Many of the country's more than 120 private universities are still operating. But these institutions depend on tuition fees for their funding, and many students struggle to pay, have left the country or have dropped out. Academics say salaries and research funding have been cut.
"Our research activities have ceased," said Sayed Hamid Mousavi, medical researcher and research director at the private Kateb University in Kabul, who says he has not been paid for four months. He and others try to do office work, like writing historical data analyzes; laboratory research has stalled and new data is difficult to collect.
There have also been reports of academics being abused at public and private universities. Ramin Mansoory, a lawyer who served as an adviser to the governor of the Afghan province of Balkh before fleeing to Poland in August, heard reports that faculty members from ethnic minority groups had been fired and replaced by members of the Pashtun ethnicity, the group to which many members of the Taliban belong. There have also been reports of the kidnapping and murder of academics belonging to ethnic minority groups.
In September, Qaderi co-wrote a short correspondence in Nature on how the Taliban takeover could jeopardize the health of pregnant women and new mothers. The article mentioned a university in Afghanistan as one of his affiliations – but after its publication some of his colleagues received threats and asked him to withdraw the affiliation.
Leave the country
In August, Nature reported on the tide of researchers seeking refuge abroad, reflected by a record number of applications for programs that organize internships for scholars at foreign universities. Since, requests continued to increase, mostly academics still stranded in Afghanistan, but only a handful have found institutions to accommodate them.
"Everyone's trying to get out," says Eraj Haidari, visiting law scholar at City, University of London. Haidari is one of four people to have received a UK university scholarship supported by the London-based Council for At-Risk Academics. Executive Director Stephen Wordsworth said the council received some 540 applications from Afghan academics.
Scholars at Risk, a similar organization based in New York, received over 1,300 applications. So far, only 20 applicants have been in contact with institutions in the United States and Europe, and the organization is seeking places for 35 more.
The Scholar Rescue Fund at the Institute of International Education in New York City has also been inundated with a record number of applications. Requests have increased since August – "a trend we only hope to continue," director James King said.
But even when researchers get positions, getting out of Afghanistan is tricky. Many embassies in the country remain closed, which means academics often have to travel to neighboring countries, such as Pakistan and Iran, first to process their papers.
Researchers say they have little hope that the situation in Afghanistan will improve in the near future. "We don't have the support of the outside world, and the number of researchers and academics has dropped dramatically. We are facing a brain drain, "says Qaderi.