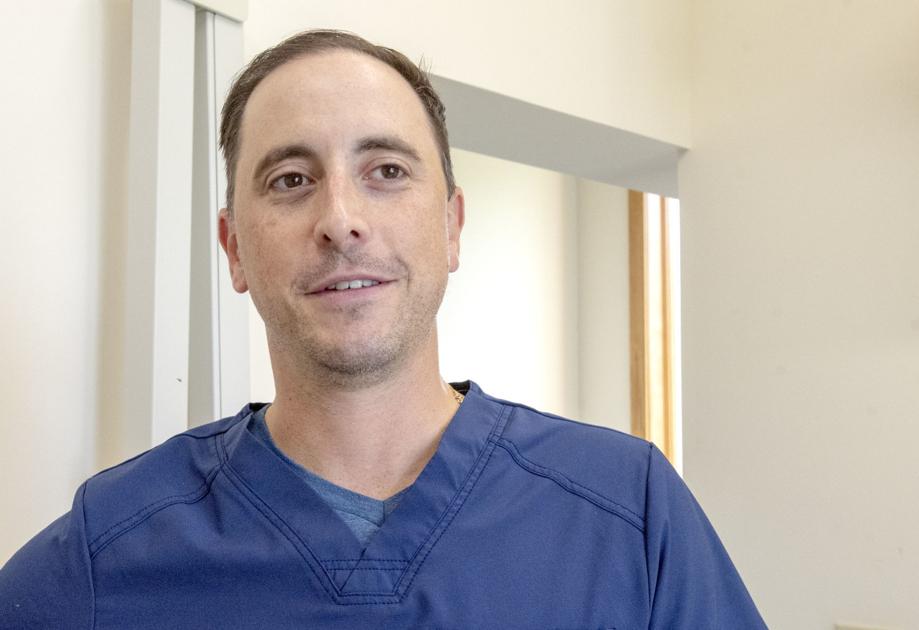 Beyond the conference room: Savoy dentist Dr Michael Ruffatto | Entrepreneurs
Looking back now, 18 years and a small business buy later, the most profitable future dentist in the college course MIKE RUFFATTO ever taken had nothing to do with repairing teeth.
"Marquette University. Introduction to biomedical engineering, "he says. "It was the only course for my major, my first year.
"I got into biomedical engineering because I learned in high school that a diploma in this major would give me the opportunity to work in various fields. During that first year of class, I came to the conclusion that I didn't want to be an engineer.
"At the request of my educational advisor – and my parents – I ended up finishing the engineering program as a backup in case the dentistry didn't work. As a dentist, I haven't used too much what I learned from my engineering degree, but I'm glad I had this first year of class to help me define my career path.
It was then. It's now: Last month, Ruffatto's Savoy was named the best dental practice in the region in The News-Gazette's People's Choice vote.
The Outdoor Wheeling native – who is married to fellow dentist, Kara, of the Champaign-Urbana public health district – took time to answer questions from the editor Jeff D'Alessio in the 96th installment of our weekly quick read highlighting leaders of organizations large and small.
---
I can't live without my … magnifying glasses – magnifying glasses. I started using loupes in dental school and I probably couldn't work without them.
I have improved since my first pair and now have stronger magnification and a light to brighten my field of view.
My only unbreakable rule in the workplace is … be honest. Be honest with me, be honest with your colleagues, be honest with patients.
Sometimes it is difficult to be honest with patients, but honesty will benefit their health in the long run.
The hardest thing about being a leader is … knowing that every action, activity or comment is seen by those I lead. So always being "on" when I'm at work is difficult but also rewarding.
When it comes to my philosophy on meetings … my team and I meet each morning to discuss the patients of the day. We discuss treatment needs or concerns the patient may have.
This meeting only lasts about 10 minutes, but helps everyone in the office to be on the same page.
My favorite moments in this job happen … at any time, we are able to restore a patient's smile during a short appointment that changes a patient's appearance to the point where they are speechless.
Some patients feel like they will never like the look of their smile, so being able to make a small change to their tooth, which changes the perception of their smile, is very rewarding.
My business models are … two dentists I worked for when I was in high school and college during the summers. They both showed me just how rewarding dentistry can be to work in that allows you to both help people and have time for family and friends.
They have always been kind, courteous and professional to their patients and I try to follow their example every day.
I'm thrifty in there … we shop when we buy our office supplies. There are many different dental suppliers out there and we are always looking for the best prices.
The biggest business risk I ever took was … take over my own practice almost seven years ago. I had never worked as an associate so it was a new experience.
But looking back, I'm glad I took the risk.
Regarding the last luxury I splurged on … I'm not too keen on luxury, but recently purchased new x-ray equipment for my office which will benefit both patients and our staff.
It might not be considered a luxury for most, but when we had to watch spending over the past 18 months due to the pandemic, it was like a luxury to do this upgrade.
I am up and to them every day by … 6.30 a.m. I'm not a morning person at all, so I try to sleep every extra minute I can.
Regarding my exercise routine … I have a treadmill and a small weight in my office. I try to work out in about 40 minutes or do some cardio and weight training during my lunch hour.
The strangest job I ever had was … my very first job after I was 16 in a big and large men's store. At the time, I was 5 feet 10 inches tall and weighed 160 pounds. I didn't know anything about being tall, tall, or male, so I wasn't a very good salesperson.
But it was a great experience and I was able to cash a paycheck which was all that mattered at the time.
On a scale of 1 to 10, the impact of the pandemic has been … year 8. This pandemic has caused my office to undergo changes that have affected our workflow.
But in the end, I'm happy with the changes we've made and will continue to keep the new protocols in place.