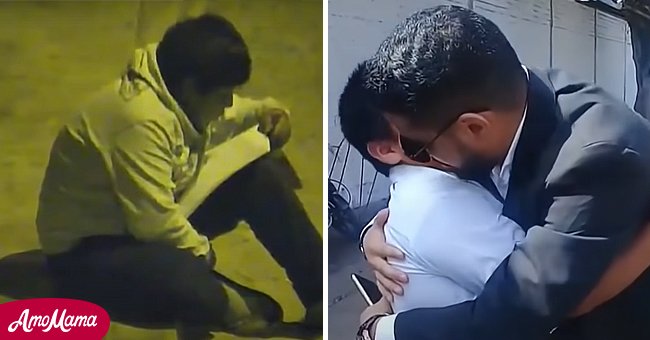 Businessman built a house for a 12-year-old boy who studied under street lights every night
Although there was no electricity in his house, a young boy was determined not to give up, going to great lengths to complete his studies.
Businessman Yaqoob Mubarak felt moved after meeting preteen Victor Angulo, who studied daily by street light. Mubarak chose to build a real house for the young man.
The Bahraini charity not only erected a house for this young boy from Moche who could not study at home due to the lack of electricity. The businessman also said he would give funds to the family of the 12-year-old to start his own business.
On top of that, Mubarak also provided a wheelchair for Angulo's disabled companion and claimed he would buy new computers for the young boy's school. The 12-year-old thanked the Good Samaritan, Express:
"Yaqoob Mubarak, I want to thank you for everything you do for us, for the children in the school."
Mubarak also promised to take the young boy and his mother to his home country for a visit at some point. As a result of his kind-hearted actions, the businessman was honored with the key to the city.
Honestly the most beautiful thing I have read / seen in a very long time. Respect to Mr. Yaqoob Mubarak and Victor Angulo. https://t.co/QzjFIokt4y

– 🆆 🅸 🅻 🅴 (@WillieTheWineO) June 5, 2019
This all first happened when the entrepreneur saw this touching scene online of the 12-year-old boy tenaciously completing his homework on the sidewalk. The clip was captured via CCTV footage.
Poirier paid the balance, leaving the old man with a big smile on his face.
The video was later posted on Instagram and eventually went viral. Mubarak thinks Angulo is a significant achievement in the meantime.
"Just being nice to others can help accomplish a lot in the world": Market Basket employee helps veteran pay for groceries @ItsRachelHolt reportshttps://t.co/4mukGP2dCV pic.twitter.com/FHBlpS76po

– WBZ | CBS Boston News (@wbz) July 27, 2021
From Bahrain to America, generosity knows no borders. Briar Poirier, a Market Basket employee in Oxford, Massachusetts, stepped in to help a veteran in need by paying his bills.
Customer Renee Falcioni, who holds Poirier in high regard, saw the employee helping an elderly man, who turned out to be a veteran, by paying for his groceries. He had used his $ 25 store gift card, but he was still $ 3 missing from his total bill.
Poirier paid the balance, leaving the old man with a huge smile on his face. From the post-trauma of fighting for their country to the struggle to finish school, everyone needs a helping hand every now and then.