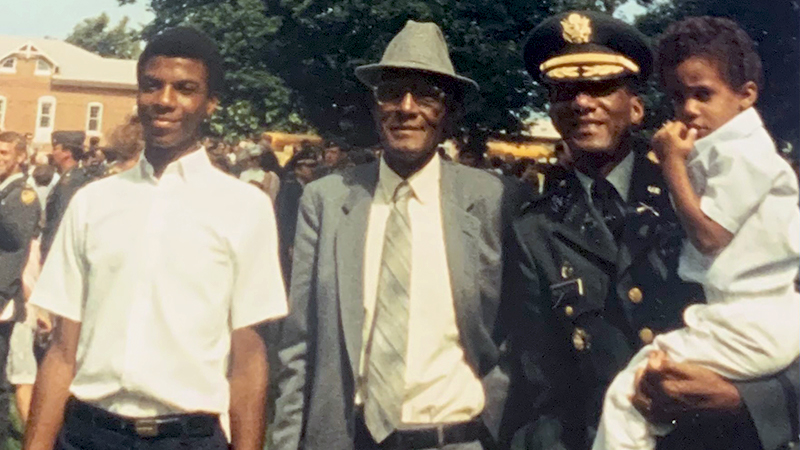 Empowering veteran business owners for nearly 150 years
From his years of service in the military to his current role as managing director at JPMorgan Chase, where he helps ex-soldiers start their own businesses, Alex McKindra Jr. is a veteran success story.
And her story has a long history, going back through generations of her family in the small town of Union Chapel, Arkansas.
Generations of Mentoring
In the late 1800s, McKindra's great-great-grandfather, Reuben Frank McKindra, moved his family to Union Chapel, a town originally populated by freed black slaves.
Working on their family farm, the McKindras made a name for themselves by demonstrating their resourcefulness and aptitude for hard work. Namely, the family used mentorship programs, as well as public and private funding, not only to start, but to grow and expand their family farm.
Amidst the success of the family business, the McKindras never lost sight of the support they had received and the importance of passing it on to others in their community and society. Generations of McKindra dedicated their lives to the military and subsequently to their communities when they returned home.
"I wouldn't be in the position I am in today without the opportunities that mentorship has provided me," says McKindra. "The farm my family was able to start, with the support and mentorship of others, has helped educate and clothe every generation of my family since the 1880s."
Pay it forward
McKindra chose to honor her roots by following in her ancestor's footsteps and joining the military. He graduated from West Point in 1993, then served a tour of duty as a Captain in the United States Air Force.
Armed with the life experience and knowledge he gained through service—and a freshly earned MBA from the University of Southern California—McKindra dove into the world of corporate finance. Quickly building a reputation for intelligence, reliability and kindness, he rose through the ranks. Today, he works as a managing director for JPMorgan Chase Commercial Banking.
Amid his own success, McKindra also wanted to help those who, like his great-great-grandfather Reuben, had risked their lives for the country and now sought to put down roots as civilians.
At JPMorgan Chase, he continued to advocate for veterans, eventually becoming co-head of JPMorgan Chase Commercial Banking's Veterans Initiatives Program, alongside Army veteran Terry Hill.
Currently, McKindra and Hill are working with JPMorgan Chase and Bunker Labs, a national nonprofit, to create programs to help veteran small business owners. Together, they created CEOcircle, a 13-month mentorship program designed to help midsize military-related businesses grow. Through this program, seasoned business owners and their families have access to the guidance and resources they need to succeed, including education, networking and one-on-one financial mentorship from JPMorgan Chase advisors. The program empowers businesses that will support military families for generations to come, businesses like McKindra Farm.
The new program launched nationwide last year and will welcome its second cohort of 80 military-related businesses in November.
"If my great-great-grandfather were here today, I would want him to know that what he built not only sustained our family, it also instilled in us the values ​​that would sow acceleration and growth of hundreds of other veterans- going forward," McKindra says. "I know he would be proud of that."