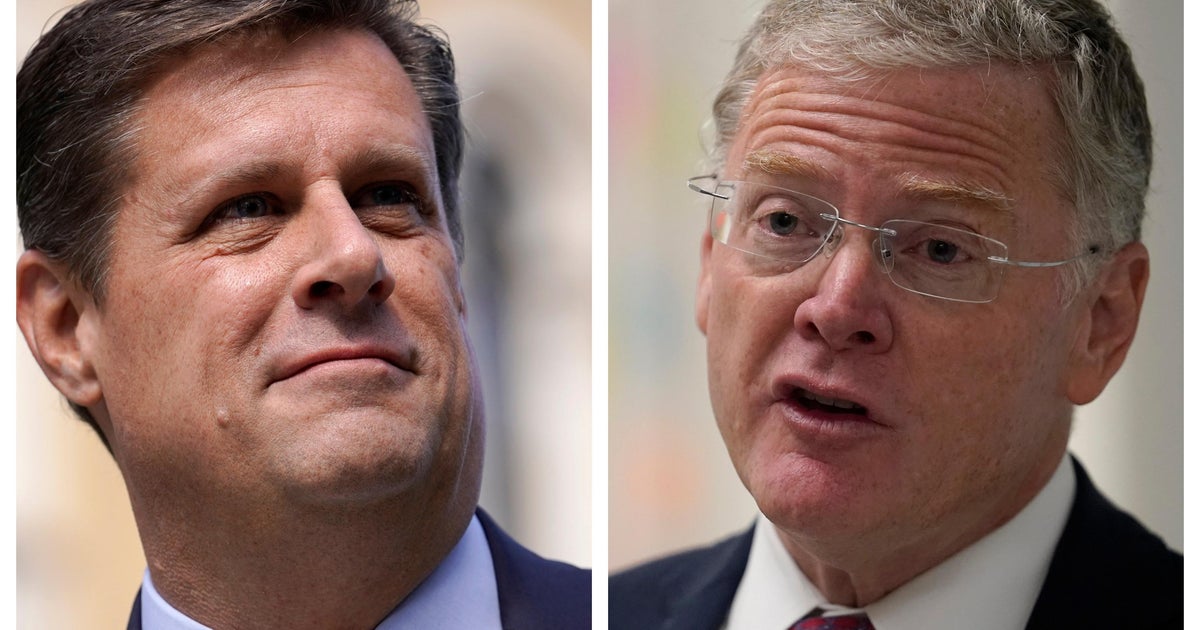 GOP voters choose between moderate businessman and Trump-backed candidate
The Democrats' best chance of toppling a governor's mansion lies in Massachusetts, where Republican Gov. Charlie Baker is not running for re-election. In Tuesday's primary, Republican voters will decide who will face Democrat Maura Healey in November.
They must choose between businessman Chris Doughty and former state representative Geoff Diehl, who was backed by former President Donald Trump. Doughty, a political newcomer, was backed by moderate neighboring New Hampshire Governor Chris Sununu.
Baker, who declined to vote for Trump in 2016 or 2020, did not endorse any of the primary candidates.
Despite Massachusetts' reputation as a liberal state, only one Democrat, Deval Patrick, has been elected governor since 1990. But most of those Republican governors were considered fiscally conservative and socially moderate. Trump garnered just 32% of the vote in the state in 2020, winning about 75,000 more votes than in 2016, albeit around the same percentage of votes.
Not only has Trump endorsed Diehl, but former Trump adviser Corey Lewandowski is a campaign strategist and Diehl served as Trump's campaign co-chair in 2016. Diehl also repeated Trump's baseless claims that the 2020 election had been stolen, fought against the extension of postal voting and said he supported the Supreme Court decision overturning Roe v. Wade.
Trump held a phone rally for Diehl on Monday night, saying Doughty "wouldn't do anything but go to the left wing."
Diehl ran unsuccessfully against Senator Elizabeth Warren in 2018, losing by 24 points.
Doughty, meanwhile, tried to appeal to more moderate voters. State House News' Matt Murphy said CBSBoston that Doughty's chances will come down to independent voters.
"How many of these independents decide to participate in the Republican primary? Murphy said. "For Doughty to have a chance, he has to attract a lot of those independents, maybe even those who would typically vote Democratic to maybe counteract that Trumpian message that's coming from the Republican party. If a lot of them participate, maybe that he can bridge the gap with Diehl."
On the Democratic side, Healey, the state attorney general, is running virtually unopposed. Although Sonia Chang-Diaz's name will appear on the ballot, she dropped out of the race in July.
Healey would be the state's first openly gay governor and first elected female governor (Jane Swift became Massachusetts' first female governor in 2001 when Paul Cellucci resigned to become ambassador to Canada, but the following year lost the Republican nomination for Mitt Romney).
There will be several Democratic candidates on the ballot for other offices statewide, including to replace Healey as attorney general. Former Boston City Councilwoman Andrea Campbell and workers' rights attorney Shannon Liss-Riordan are both running, after dividing some of the state's most powerful Democrats for endorsements. Liss-Riordan has the support of Warren, Boston Mayor Michelle Wu and former acting Boston Mayor Kim Janey, while Campbell has been backed by Healey, Sen. Edward Markey and half of the Congressional delegation from the state.
The winner will face Republican Jay McMahon in November.
None of the nine Democratic members of Congress from the state face major opponents. Neither of the two state senators is eligible for re-election this year.
Polls close at 8 p.m. ET.
Aaron Navarro contributed to this report.