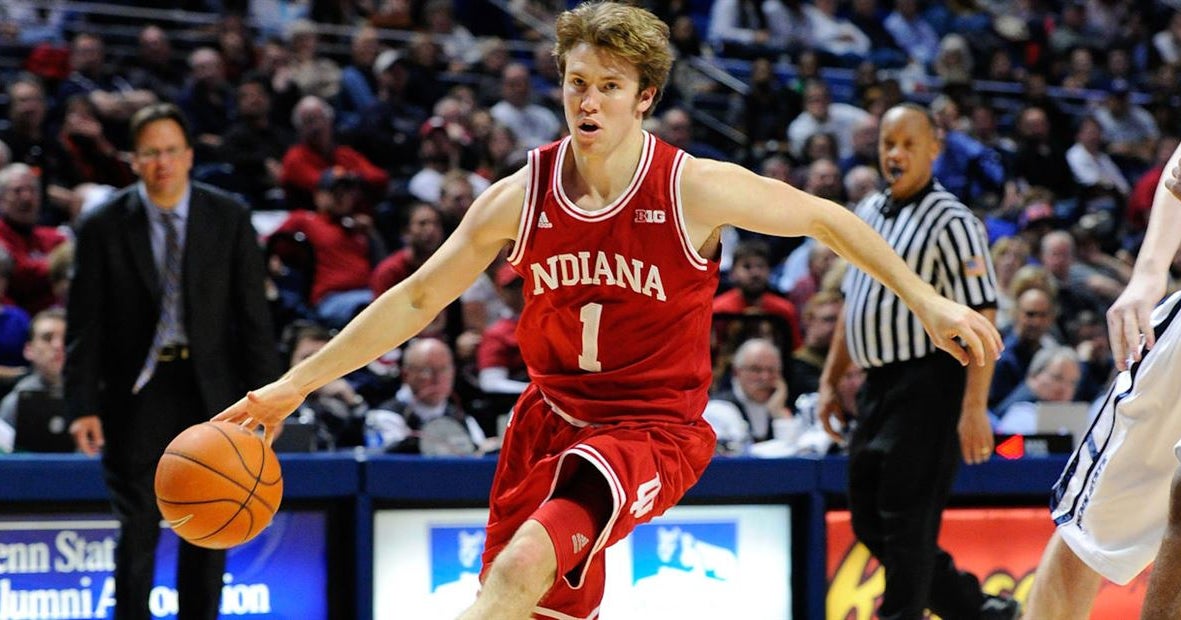 Jordan Hulls was not yet ready to give up his playing career. But when Indiana called, he couldn't say no.
Jordan Hulls would have played until his legs stopped working, he made that very clear. But when the opportunity presented itself to return to his hometown after nine seasons abroad and work for the only college basketball program he's ever known, there was no way he was going to waste it. this chance.
Hulls, Men's Basketball IU new team and recruiting coordinator, has only been on the job for less than a month. He arrived with little knowledge of the ins and outs of the recruiting world as it has evolved over the past decade. Yet there he was last weekend in Carmel, Ind., wearing a red collared shirt emboldened by IU, sitting on the sidelines of the Charlie Hughes Showcase and taking copious notes.
For Hulls, he doesn't care to bask in a long, drawn-out celebration for his return to Bloomington. There is work to do, players to recruit and coaches to network with, and he has every intention of getting into all facets.
"J"The fun part for me is really diving in and seeing a player who I think can have the intangibles to help us succeed," Hulls said at a press conference last week. "It's a very exciting thing for me to try, to watch good basketball, to watch good players and try to get these guys."
That's easier said than done, especially for a guy who had never recruited a single prospect before.
Of course, the Hulls name won't be forgotten anytime soon at Indiana State, not after being selected Indiana Mr. Basketball, not after helping the Hoosiers to back-to-back Sweet 16 appearances in 2012 and 2013 in as a starter, and certainly not after finishing his IU career with the 26th most points in program history. But simply relying on a college career that ended nearly a decade ago is unsustainable in today's recruiting climate, and Hulls knows it.
Instead, the former two-time All-Big Ten selection keeps his own personal experiences in mind, while remaining open to navigating and learning about the new role he has been given.
"Obviously being born in Bloomington, watching Indiana basketball my whole life and playing here, my whole thing is trying to identify with these guys," Hulls said, "and learning how to know, first of all. What motivates them, how can I help them in any way."
A quintessential "Bloomington kid" by birth and college choice, Hulls has been through it all. The nostalgia of attending Hoosier Hysteria while it was still standing at midnight. The roar of a sold-out boardroom after hitting a big three-pointer. The passion of a fanbase that watches every game as if it might be their last.
But before Hulls set IU records or cemented himself as one of the most beloved players of his generation, he was the kid who was often overlooked at AAU events in favor of more talented teammates or sportsmen. It wasn't until the summer before his senior season at Bloomington South High School that Hulls found himself anywhere near 247Sports' Top 150 rankings for the 2009 class.
Thankfully, after a few huge games on the AAU Tour after his junior season, the top coaches couldn't sit idly by, including Indiana. And once that IU offer arrived, Hulls said he waited two weeks, at most, before committing to the program he had always dreamed of.
"I will probably have a special place in my heart for [being under-recruited] because I was, I was sending tapes out to anybody who wanted to check it out when I wasn't heavily recruited," Hulls said. "Fortunately, I played with a lot of good guys on my AAU team and I got noticed after a big tournament in Pittsburgh and things kind of took off from there."
Nine years, four European countries and three children later, Hulls is back where he started.
It may not have been the path or career path Hulls had always envisioned, but when the right opportunity presented itself, he couldn't say no – even if it meant trading his professional playing career for weekly matches at a local Indiana gym. .
"For me, that was something I just couldn't pass up," Hulls said. "It's an opportunity to learn from very, very good coaches, guys who have been at the NBA level, at the college level for a very long time. And I'm just trying to be the best at my position that I can be."
The transition to team and scouting coordinator, a position previously held by assistant coach Brian Walsh, will likely take some time for Hulls to get used to. It's a full job that comes with significant responsibilities, dozens of phone calls every day and long nights.
Hulls is up for the challenge, however. If he wasn't, he wouldn't have moved his family halfway around the world. He would not have uprooted his familiar life in Germany. And he certainly wouldn't have given up on a playing career that still had several years left to him.
However, Bloomington and IU are home to Hulls. It has always been so. Only this time, the majority of his contributions will come from his office, at the practice gym or sitting on the sidelines watching potential high school recruits.
"It's a big step for me and my family, this next stage in life that we're excited about," Hulls said. "We're going to attack him like I did when I came out on the pitch – do the best I can as hard as I can, and things tend to work out that way."