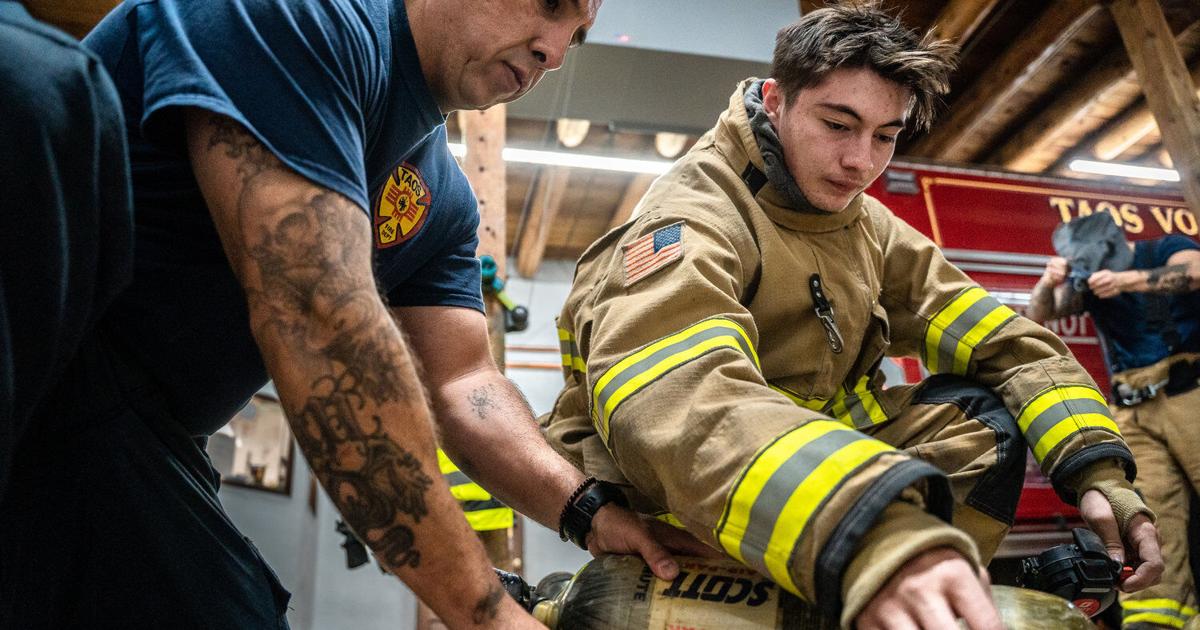 Local teenager contemplates a career as a firefighter | Local news
"Slow is smooth and fluid is fast," said Gabriel Romero, shift supervisor of the Taos Volunteer Fire Department, as he practiced putting on his bunker gear – or firefighting PPE – Tuesday morning (December 14) at station 1 of the service.
"We are not going to rush. Slow is smooth, smooth is fast, "Romero repeated, as Vasquez, a 16-year-old intern in the department, donned the gear for the third time.
Vasquez represents one of the few young Taos who have chosen to spend their free time – or in Vasquez's case his hours of work curriculum in high school – learning the ins and outs of firefighting in hope to make it a lifelong career.
Creation of a work-study program
Vasquez, a student at Taos High School, said that while other students use work-study hours to join the paid workforce, submitting their pay stubs for school credit, he decided to see s 'he could spend his time with volunteer Taos. Fire department at the start of the school year.
Although he said his uncle was a former volunteer firefighter, Vasquez said he had no other connection with the department. "I came in kind of on my own," he said of the start of his work-study program. He has been volunteering with the ministry since May, when he first attended exercises, which he said immediately intrigued him.
"They're like classes for me," Vasquez said of his Tuesday and Thursday mornings from 7.45 am to 9.00 am at the fire department. "I like to be careful. I watch what they do, "he explained.
Firefighters hire trainees as they arrive. The progression of the training is rigorous.
Vasquez studies firefighting nomenclature, or the precise location and name of every piece of equipment on every fire truck; cargo hold equipment drills, in which he dresses in full firefighter gear; breathing apparatus exercises; and pipe rolling, among others.
Although he has not yet been on any missions, he has said he looks forward to the day when he can help the team he has come to know – and who knew him – over the course of the seven last months.
An interest in helping the community
The tight-knit nature he discovered at the fire station is part of what prompted Vasquez to want to devote himself full time to fighting fires.
"I would like to start as a volunteer and progress to being a shift supervisor," he said.
As to why he chose to spend his work-study program volunteering, he said he was "a little different" from his peers when it came to why he does this. "I want to serve the community, of course, but I want to carry on the legacy of all those firefighters who have fallen in action since September 11th.
He said helping his local community was one way for him to see visible change. "The community is kind of a place I like to be; going to all those community events, playing music for the community (Vasquez plays in his high school mariachi band). A lot of people in our riding are really nice people, and I really love to see that, "he said.
"I see our community as a place with a lot of opportunities. A lot of people can do a lot of things, but there are always these limits, "he said of the general lack of volunteer participation. Personally, he said he is focused on his career path and plans to continue his education to become a paramedic as well.
A lack of other young volunteers
Vasquez appears to be one of a smaller and smaller group of volunteer firefighters across the county (see article on A1). He said he tried to recruit friends to come join him, but it didn't last long. "[Other students] say they're cool at first, then I talk to them more and then they say, "I don't know." "
"It's really hard to get kids to do things, especially now," he said. "I'm doing my part as hard as I can," adding, "It's a really cool program and fighting fires is a really cool thing to do."
He said many peers didn't see a future in Taos at all, but training programs for young people like the one offered at Taos fire could help create a change in that perspective.
"I think if we put in more programs for young people – like firefighters, police, EMS – and show [students] all that, I think they might be interested in staying.