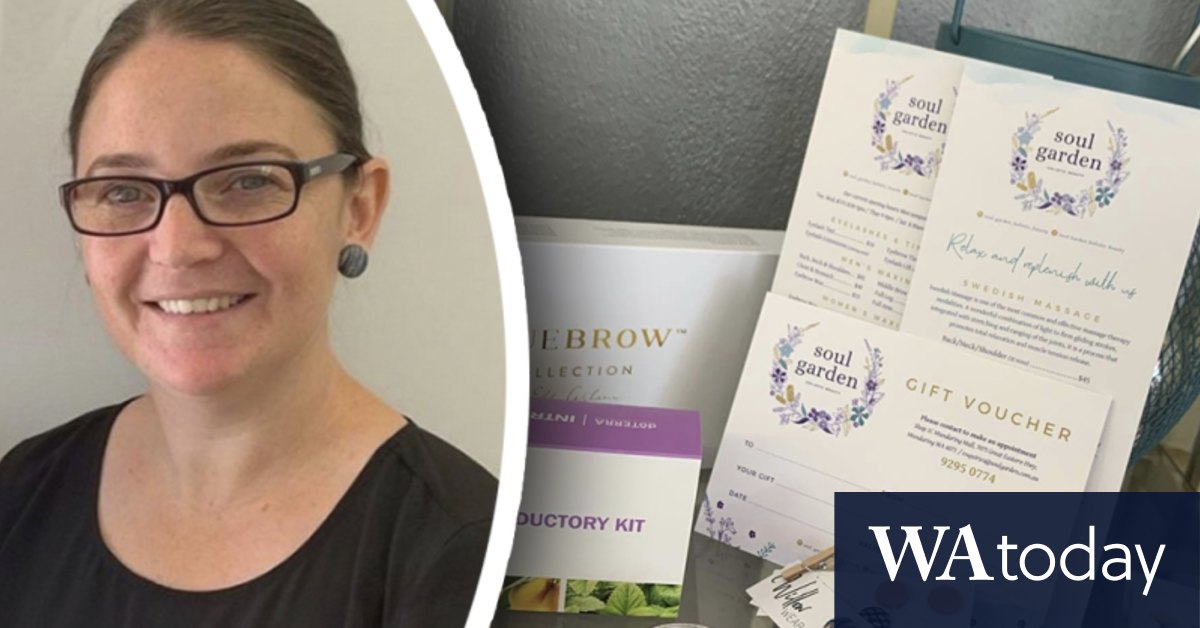 Perth COVID-positive business owner fears self-isolation with four children could last several weeks
Receive the call from the Ministry of Health
Ms McKinlay said the Department of Health called her on Saturday morning to tell her the salon had been an exposure site.
At the time, there was no mask mandate for West Australians when inside businesses.
"The delay showed that it was my client," Ms McKinlay said.
"I was deemed high risk and my staff were deemed low risk, but we all went to get tested anyway.
"We immediately closed the salon and informed our immediate customers of what was happening.
Loading
"Because of the trail of where the previous case had been…they [health authorities] are convinced that it is the Omicron strain.
The department told Ms McKinlay that someone with the virus came to her living room on Thursday.
Ms McKinlay said that since the Department of Health had been so pumped up with the virus, she thought it would be quicker for her to contact all of her customers about the positive case.
She said she was worried the ministry still hadn't listed her business as an exhibition site on its public list.
The Department of Health, however, has not put the show on its public exhibition site, as it believes all possible contacts have been contacted.
Ms McKinlay said her company kept a detailed list of who entered her living room.
She said testing positive for the virus was heartbreaking.
"I had already been in contact with so many people, but also my clients, so I knew immediately that I felt like I had put other people in danger," Ms McKinlay said.
What it's like to have COVID-19
Ms McKinlay said on Saturday morning, two days after being exposed, she had a runny nose but hadn't thought too much about it as she was prone to hay fever and sinus infections.
But by the end of Saturday – after being tested and placed in solitary confinement – she had a scratchy throat, sore ears and felt a head cold coming.
Ms McKinlay said she did not feel better as her symptoms had changed.
"I have a bit of a cough now that I didn't have to start with, so hopefully it stays mild," she said.
Loading
"I just could treat everything with a Pandaol – headaches and body aches."
Ms McKinlay said the virus felt like you had just played football and needed a good massage afterwards.
"I certainly don't think it should be underestimated, I think people should first consider the dangers of it, complacency is what will put people off," she said.
"I can't compare it to any other COVID strain because I've never had one before. In terms of flu and colds, I've only had the flu once in my life and I remember it was pretty bad.
"I wouldn't say I feel that bad right now, I guess it depends on how long the strain lasts…it's clearly a lot more contagious too."
Grants would be helpful
Ms McKinlay said she believed families would be impacted more by close contact protocols, but WA opening up and battling the pandemic was going to be financially stressful for small businesses.
She said getting government support in the form of grants would reduce the stress.
"The bills keep coming, but the government isn't made of money either," Ms McKinlay said.
"We make money to pay them to pay us."
MorningThe ing Edition newsletter is our guide to the most important and interesting stories, analysis and ideas of the day. register here.