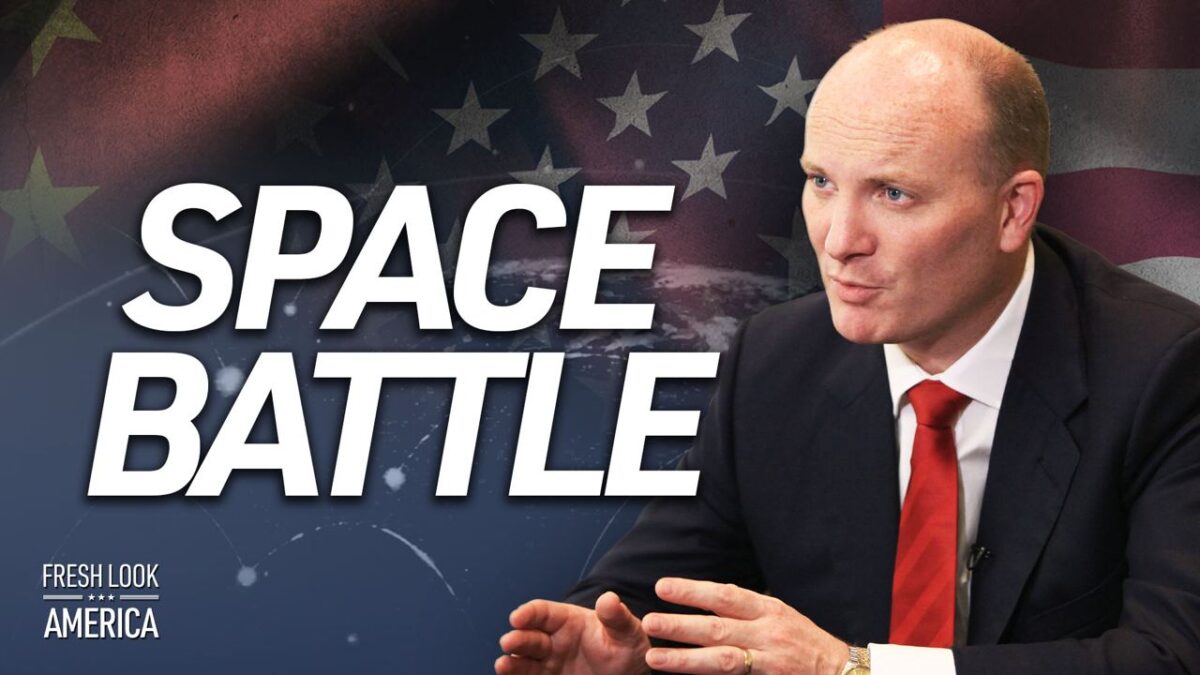 [Premiering Wed. Aug 31, 7 PM ET] An entrepreneur battling Communist China for control of the "Goldilocks Zone"
Declan Ganley, founder and chairman of Rivada Networks, is engaged in a fierce battle for Earth's "Goldilocks Zone," a prime location for a network of low-Earth-orbit satellites.
"It's the most cutting-edge communications network the planet has ever seen," Ganley told NTD's Paul Greaney.
The network would directly compete with Elon Musk's Starlink network. But Rivada's permits are for an even softer position in space.
"Think of them as cellphone towers in space. This position puts you on top of the hills, not in the valleys… above Elon Musk's Starlink constellation.
Rivada is a commercial entity and plans to use the network for purely commercial purposes, licensing the use of the network to businesses and governments around the world. But such a powerful network could, hypothetically, be weaponized for military purposes.
"Let's say something was moving at tremendous speed, but you wanted to be able to communicate with it, guide it, direct it, whatever. It would be an ideal network for that," Ganley explained.
A Chinese Communist Party-backed company tries to thwart Ganley's plans and roll out its own network in the Goldilocks area.
Before Rivada appeared on the scene, the Chinese provided the financing for the project – at least $120 million. It has partnered with a German company, Kelo Connect, the brains behind the innovative satellite network. But after the Germans got wind that the Chinese were building a replica business in Shanghai, they ended the deal. The Germans feared that the Chinese were planning to steal their technology.
"Not just the technology, but the whole lock, stock and barrel project: deposits, orbital rights, everything," Ganley said.
After the breakup, Ganley came into the picture with new funding, backed by PayPal co-founder Peter Theil and former White House chief of staff Karl Rove.
Rivada is now in a race against time. It has seven years to launch as many satellites as possible out of the 600 granted by the permits. After that, permits will be limited.
And the Chinese are not making it easy for him.
"This must be of some sort of strategic importance to the CCP and its cronies, because otherwise the resources wouldn't be available to conduct the kind of high-profile, public trial that they are conducting," Ganley added.
* Click the "Save" button below the video to access it later on "My List".
Follow Paul Greaney, host of Fresh Look American on Twitter.
Follow EpochTV on social media:
Twitter: https://twitter.com/EpochTVus
To scold: https://rumble.com/c/EpochTV
Social Truth: https://truthsocial.com/@EpochTV
Obtain : https://gettr.com/user/epochtv
Facebook: https://www.facebook.com/EpochTVus
Gab: https://gab.com/EpochTV
Telegram: https://t.me/EpochTV