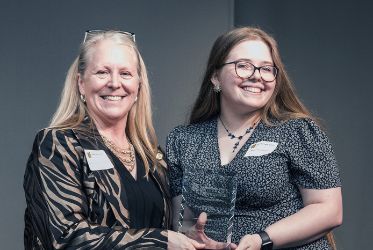 Recent graduate pursues high-impact career in sociology
KENNESAW, GA (Jul 25, 2022) — Third time was the charm when choosing a major for sociology graduate Alaina Hoofnagle. After entering KSU as an indecisive major, Alaina first explored teaching English and business management before finding a major she knew was perfect for her. Alaina says that even as a child she was always interested in "making a difference", but it was her sociological training that solidified her decision to create positive social change.
"I've always been social justice oriented, very interested in marginalized groups and making a difference and making a positive change. And so, I was like, 'Yeah, that's up my alley,' Hoofnagle explained.
During her time as a student at KSU, Hoofnagle held many titles, from Honors College student to teaching assistant to research assistant. Her latest title comes with her most recent recognition as the 2022 Outstanding Researcher in Sociology at the All-College Awards.
Making the most of her time at KSU, Hoofnagle worked with Dr. Evelina Sterling as a research assistant. Alaina's research findings suggested adding a COVID-19-focused curriculum to the self-management program, called "Healthy Together." This NIH-funded research project allowed Alaina to explore her interests in medical sociology and make a difference in the African American community. She then presented the results of this research at the National Conference on Undergraduate Research and the KSU University Student Symposium.
After graduating in the spring of 2022, Dr. Sterling offered Alaina a part-time position to continue her research at Kennesaw State.
Asked about her plans after completing her research, Alaina highlighted her desire for a new career path that will allow her to continue facilitating social change. "I only discovered medical sociology very recently. I was looking for a high-impact career path that would allow me to create positive social change, and then I discovered medical sociology.
Alaina also acknowledged the misconception of earning a social science degree and pointed out the practical implications of changing majors.
"When people ask me what I specialize in, a lot of people think of psychology and they asked me if I wanted to be a counselor. I think people just have this misunderstanding of what sociology is. However, when I started taking sociology classes, my view of the world changed. I've always had a kind of social conscience. But the sociological training I received at KSU helps me see the world through the sociological imagination, and I see almost everything with the sociological reason behind it.
Alaina says she now has a very analytical approach to current events that she sees on the news daily. Overall, she feels her undergraduate education and experience at KSU made her a complete person and citizen.
"No matter what you study, it shows that you were able to show yourself, to have courage, to finish what you do."