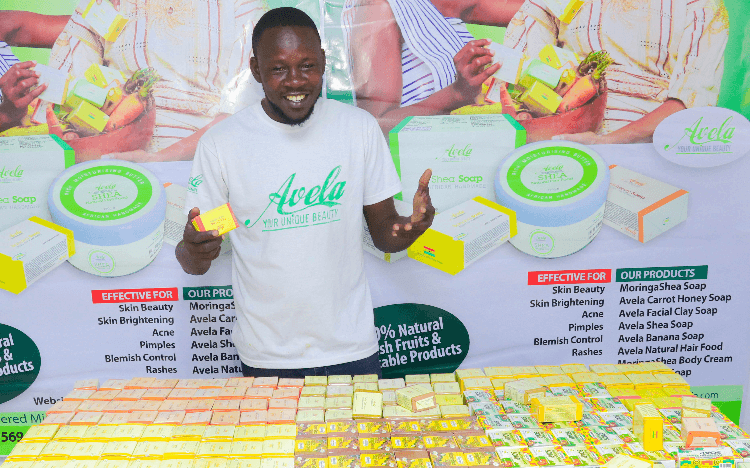 Serial Entrepreneur Uses MBA to Start Businesses in Africa and Asia
Ghanaian Awal Suddeeq never stands still for too long. The serial entrepreneur has several startups under his belt and is always looking for ways to burn off his entrepreneurial energy.
After starting a natural cosmetics manufacturing company, Kasi Naturals, and leading youth empowerment programs in Ghana, he set out to find ways to hone his start-up skills.
He is now using his MBA from Asia School of Business (ASB) to run businesses across Africa and Asia.
---
Why MBA: Asia School of Business
During his time as a prime entrepreneur, one thing played on Awal's mind.
"I quickly realized that I didn't have enough knowledge, concepts or business frameworks to understand what I was doing," he says.
It became clear to Awal (on the picture) that an MBA would be a step in the right direction.
He was first drawn to ASB, a Kuala Lumpur-based business school and formed in partnership with the MIT Sloan School of Management, because of its action-learning (AL) program. AL is a central component of the ASB MBA program which allows students to undertake five projects in different companies and countries, one of which is specific to entrepreneurship.
"Having the opportunity to try a lot of things in different industries made me feel like the program was designed for me as an entrepreneur," Awal notes.
The ASB MBA also challenged him when he heard about the school's optional testing policy, which waives the GRE or GMAT test requirement for students from under-socio-economic backgrounds. represented. Instead, ASB considers things like past work experiences and career motivations.
"The MBA admissions policy showed me that this was going to be an unconventional path because [ASB] wasn't doing what all the other business schools were doing.
---
Dive into entrepreneurship from new angles
During the 20-month ASB MBA, Awal wanted to delve into AL projects and apply entrepreneurship theory and frameworks from his MBA courses, such as Entrepreneurial Strategy, in a real-world context.
He gained experience working on a go-to-market strategy within the digital telecommunications industry, as well as working for an e-commerce company. But it was in the Entrepreneurship Trek that Awal flourished, working with a team to create a brand, test the product and create a prototype.
Awal says working in diverse teams has improved his soft ("smart") skills, such as his ability to leverage multiple perspectives. 70% of international students generally make up the ASB MBA.
"The project and the training I received on the MBA allowed me to feel that everything was possible in terms of entrepreneurship," he notes.
Awal even had the chance to grow his own business through the Entrepreneurship Trek, which is part of the ASB MBA's Summer Association Program (SAP), where he traveled to Ghana to implement his apprenticeships from the ASB MBA.
In Ghana, he conducted content analysis and interviews to inform his market research, thereby improving his technical ("sharp") skills, such as data-driven decision making. On the strength of his research, he launched another brand of natural cosmetics called Avela, allowing him to penetrate new markets such as Senegal.
He credits the ASB and visiting professors at MIT – who run some courses like entrepreneurship and innovation – for helping to boost his business tenfold. "I was able to apply the marketing analysis tools that I had learned [at ASB] directly to my business and see my business value increase many times over.
---

---
The power of the MBA network
With industry experience to his credit, Awal feels more confident than ever in his entrepreneurial endeavors.
During the MBA, he met the CEO and co-founder of Appsaya, a Malaysia-based company that creates business networking platforms. After the MBA, Awal worked with the company to provide business advice, but quickly moved from that to leading the company's strategy as vice president of strategy and business development.
Awal is also the co-founder of Wasabih, a professional networking community for the halal and Islamic economy, in Malaysia. Alongside his co-founder, who is also the founder and CEO of Appsaya, Awal advises on everything from a company's next steps to choosing which companies to partner with.
"Before my MBA I didn't know anything about strategy or business management, but ASB was a game changer," he says.
He adds that he's always in touch with ASB faculty, including the ASB Dean and several ASB and MIT professors, who offer advice whenever he needs it.
"Sometimes you need someone to think of an idea with and you need someone to believe in you."
"Building that kind of relationship with ASB faculty and my colleagues in general really helps me with my business endeavors," Awal says.