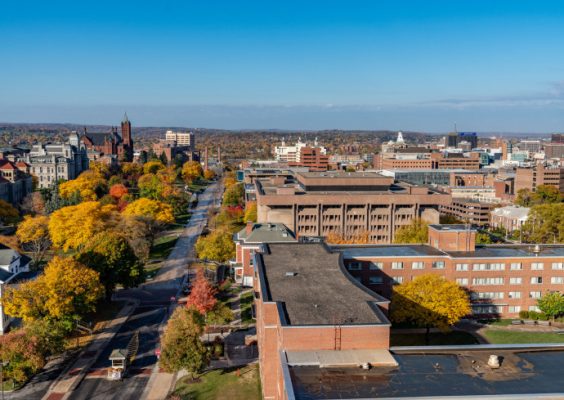 Syracuse University Expands Go Local Initiative, Creates New Pathways to Homeownership and Education
As part of its successful Go Local initiative and to strengthen economic inclusion and development throughout Central New York, Syracuse University today announced that it will expand an existing homeownership program and will provide a new education incentive to local healthcare workers.
"We know that for many in our community, the path to economic prosperity and financial independence includes a comfortable home and continued opportunities for professional growth," said J. Michael Haynie, Vice Chancellor for Strategic Initiatives and innovation. "These two initiatives represent the University's latest effort to support and build a stronger and more inclusive local economy.
Syracuse University first launched Go Local in 2019 with a commitment to leverage the power of the University to expand the participation of local residents, underrepresented communities, women, and veterans in construction projects and contracts and in employment opportunities; increase economic growth through University procurement activities; and help support community business growth. Earlier this year, as part of Go Local, the University hosted a career and vendor fair at the Oncenter Convention Center that helped create and strengthen relationships between local business owners and purchasing managers. at the University and to raise awareness of employment opportunities open to residents.
Make home ownership possible
The newly expanded Local live The initiative expands the boundaries of the University Homeownership Assistance Program and creates the University Area Homeownership Program. Live Local is expanding homeownership eligibility to neighborhoods west of the University Hill area, recognizing the impact of the Interstate 81 overpass removal.
"This is an important investment in our city, our people, our community and our economy," said Cydney Johnson, vice president of community engagement and government relations. "By moving and expanding borders, we are opening up new opportunities for more people to be able to afford to buy homes."
In partnership with Solvay Bank, the University will offer employees mortgages up to 100% of the purchase price. These employees will also benefit from Solvay Bank's best interest rate and will not have to take out additional mortgage insurance. In addition, program participants will be eligible to receive a home improvement forgivable loan worth 10% of the purchase price of the home, up to a maximum of $15,000.
Christopher Dunham, president of the University Neighborhood Preservation Association, said, "Syracuse University's plan to provide its employees with enhanced home-buying incentives demonstrates a commitment to surrounding neighborhoods and complements the work UNPA is doing to promote home ownership in our area. We expect the University's investment to mean that more people will choose to make our neighborhood their own, to live, work and share in a vibrant and welcoming community.
Eligibility for the new program remains the same as eligibility for the long-established secured mortgage program provided by Empower Federal Credit Union, Summit Federal Credit Union, and Tompkins Trust Company:
All regular full-time and part-time faculty and staff are eligible to participate.
Single and two-family homes, townhouses and condominiums are eligible.
The property must be owner occupied.
Further information on the new mortgage guarantee scheme is available on the Office of Real Estate website. Interested employees are encouraged to email [email protected] to begin the home buying process through the Live Local program.
New support for healthcare workers
Also part of the Go Local initiative, Learn locally is now offering a tuition scholarship that expands part-time online undergraduate degree and certificate opportunities to healthcare workers across the region.
"The Tuition Scholarship is designed to meet the education and career readiness needs of the local healthcare community by ensuring residents have access to market-sensitive and informed professional degrees and certificates industry," says Michael Frasciello, Dean of the College of Professional Studies. "Over the past few years, we have been reminded how essential our healthcare workers are to the well-being of the entire community. We want to support them and strengthen their ranks.
The Healthcare Worker Grant is a tuition reduction open to all full-time, part-time, and per diem employees of Crouse Health System (including Crouse Hospital and Crouse Medical Practice), SUNY Upstate Medical University , St. Joseph's Health Hospital, Veteran Administration Syracuse Health Care System, KPH Healthcare Services Inc. (Kinney Drugs), and Loretto. The tuition rate will be $350 per credit hour and an 89% discount on the full-time tuition rate.
"The continued growth and development of our employees' career paths at Loretto is a top priority and programs like this enable our staff to pursue higher education at an affordable price," said Dr. Kimberly Townsend, President. and CEO of Loretto. "We are thrilled to make this opportunity available to our employees to take advantage of the great programs directly in our own community. Career advancement is key to retaining and developing the health workforce needed now and in the future.
The tuition discount applies to Syracuse University online undergraduate degrees and College of Professional Studies undergraduate certificates. Current undergraduate degrees include Healthcare Administration, Applied Data and Predictive Analytics (Data Science), Business Management, Computer Programming, Creative Leadership, Cyber ​​Security Administration, knowledge management, political studies and liberal studies. An Associate of Arts in Liberal Arts is also available.
Healthcare workers interested in the grant and learning more about Syracuse University's online undergraduate degrees and certificates should contact the College of Professional Studies at 315.443.9378 (toll-free: 1.866.498.9378) or parttime @syr.edu.