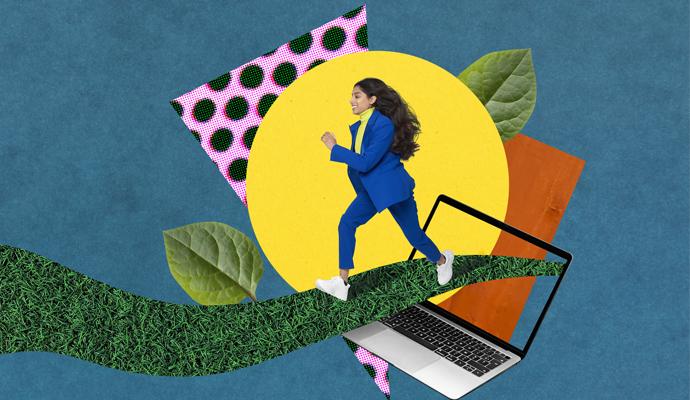 The goal is a two-way street
When it comes to the future of work, digital skills are only part of the story. Resilience and creativity, bolstered by positive leadership, are essential to a thriving and innovative workforce. A new vision requires cultural changes to help you gain the trust of your employees and new technologies to have a lasting impact on the market. To learn more about empowering your own workforce, click here.
We live in different corners of the world, in India and the United States, where we work to help companies in our respective countries assess and rethink their talent strategies. We live and work in very different economic, social and cultural contexts. And so, you might think that the customer challenges we encounter would be very different. But, over the years, we have been amazed by the similarity of issues we encounter with customers, whether in Bangor or Bangalore. More recently, as the impacts of the COVID-19 pandemic have continued to be felt, these commonalities have converged even more.
For example, we are both seeing massive employee attrition, on a scale that has not been evident in a very long time. The recent PwC US Executive Survey found that 88% of employers are experiencing higher than normal turnover and 65% of employees are looking for work. According to the US Bureau of Labor Statistics, 4.4 million Americans left their jobs in February. Many Indian IT companies are reporting skyrocketing attrition rates, in some cases double normal levels. Similar levels of employee mobility are happening in countries around the world, leaving companies struggling to fill positions.
The pandemic has played a big role, piling long hours, stress and isolation on the workforce and, unfortunately, sometimes causing burnout. Moreover, it fractured the bond between employees and employers. If you've never been to the office where you're supposed to bond with colleagues, working relationships can feel transactional and you're more likely to jump ship for a better deal.
The good news? Businesses can take proactive steps to fight the "big quit". They can work harder to be truly flexible, emphasize the connection between work and societal purpose, and broaden the conversation around career paths. These efforts will make employees feel valued. They all indicate that employees are not seen as workers but as full human beings, with their own individual purpose that the company itself should reflect and support.
Redefining Flexibility
In recent years, many companies have implemented hybrid working arrangements, allowing for more time off when needed, whether to care for sick family members or simply to take a break. But many also define flexibility narrowly as the number of days workers need to be in the office and make strict demands that everyone come in for that specific number of days, regardless of their role. A better approach is to rethink how and why teams meet instead of mandating a fixed number of days.
Definitions of flexibility can vary widely. In India, for example, employees are focusing on workplace design and the ability to continue working remotely. Because of these variations, companies need to broaden their view of flexibility. People are looking for flexibility, not just in how they're rewarded or how often they come into the office. Instead, they seek flexibility in how their current role aligns with long-term career aspirations, short-term life goals, passions outside of work, and their sense of belonging.
Connect the work to the goal
All over the world, people are looking for employers whose purpose reflects their own values. A strong commitment to environmental, social and governance (ESG) issues is now considered a basic requirement. But the goal must be a two-way street. Since each employee's personal goal is unique, an organization must be flexible enough to accommodate multiple goals.
Take the hiring process. We find that more and more client hiring discussions and decisions consider a candidate's life goals and desired experiences, and how the organization – and its purpose – can help the individual. to reach them. Instead of asking, "What can you do for us at work?" employers ask, "What do you want out of life?" Companies are revamping the recruitment process to put the candidate at the center and train managers on the ability to share authentic and compelling stories about the employee experience and meaningful work.
For their part, potential recruits, even those wishing to join an organization, no longer hesitate to say that they are not looking to spend the rest of their career in the organization they are about to join. One of us recently interviewed a potential 24-year-old who openly said he wanted to be a CEO somewhere else at 34 and retire at 40. As a result, he was looking for skills and experiences that would provide him with a springboard. towards this goal. Although he was attracted to PwC's goal, he wanted us to respect and accommodate his own goal in return. Because we did, our recruitment was a success.
Companies can also demonstrate their purpose by inviting candidates to learn more about their company and culture during the hiring process. When one of our clients, a tech startup, was looking to hire a brilliant person, they didn't just set up formal interviews. On the contrary, the startup allowed him to meet potential future colleagues, business partners and distribution channels to get a sense of how they operate and deliver on their promise. It worked. After three weeks, the candidate accepted the offer.
Create experience clusters
There is a broader redefinition of purpose underway for both organizations and individuals. Today, people have not just one career in their life, but five or six, and their goals and objectives vary at each stage. At the same time, organizations cannot approach or engage with the wide range of stakeholders they deal with through a single lens. Together, these changes usher in the concept of the goal as a "group" of goals and experiences, with different aspects resonating with different stakeholders (including employees) at different times.
These changes usher in the concept of the goal as a "group" of goals and experiences, with different aspects resonating with different stakeholders (including employees) at different times.
The same cluster concept applies to career paths. It's essential to broaden the conversation about the varied and unique options people have to achieve their goals. Companies should strive to make these options more transparent, more individualized, more flexible and less linear. For employees today, the goal of a career path is not necessarily to climb a ladder with a particular end state in mind, but to gain experience and pursue the goal. of the individual, a goal that can change and evolve over time. To that end, it can be a good idea for organizations to create journeys that allow employees to move in and through, and even out of an organization, not just up, to reach their Goals.
The mantra that people are a company's greatest asset has never been truer than it is today. As organizations face the challenge of the "great resignation", it is time to protect and nurture this asset. The result will be hiring and career conversations that are more nuanced, more personalized, and more likely to produce the mutual alignment of values ​​that will keep employees on board.
Author Profiles:
Chaitali Mukherjee is People and Organization Leader at PwC India. Based in Gurgaon, she is a partner at PwC India.

Julia Lamm works with clients as part of PwC's workforce transformation practice. Based in New York, she is a director at PwC US.