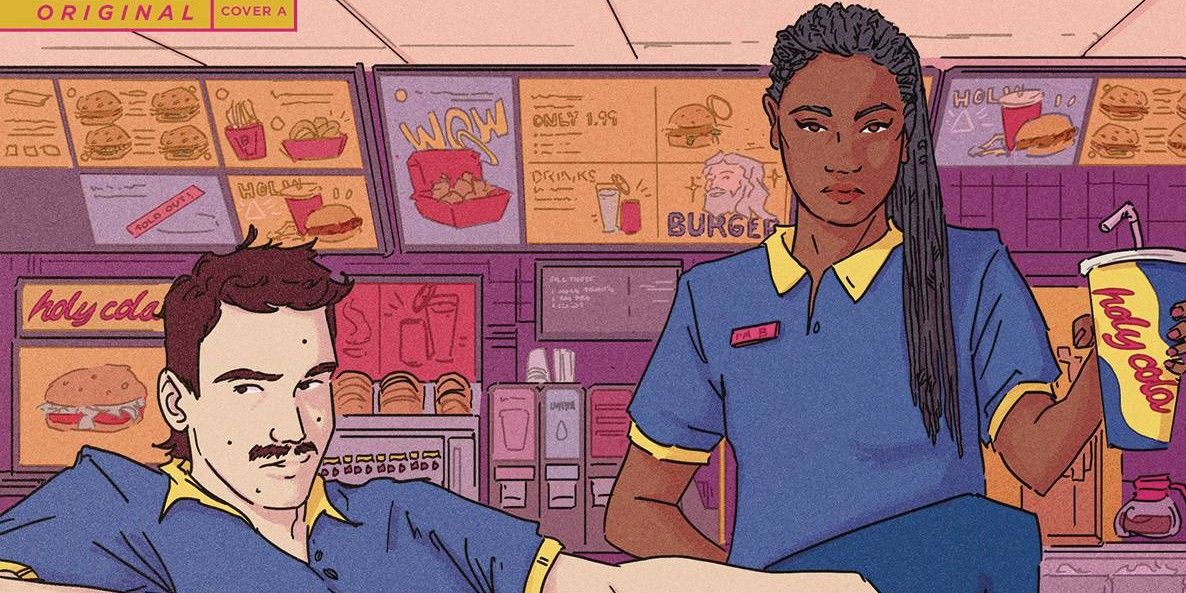 Trve Kvlt #1 from IDW Publishing
Trve Kvlt #1

Writer:

Scott Bryan Wilson

Artist:

Liane Kangas

Letterer:

DC Hopkins

Cover artist:

Liane Kangas

Editor:

SDI Publication

Price:

3.99

Release date:

2022-08-17

Colorist:

Gab Contreras
Changing jobs can be difficult, especially for those who are used to their workplace, as anxiety and fear set in. It's harder for those who spent most of their formative years stuck in a dead-end career path. Marty Tarantella has been diligently flipping burgers at Burger Lord for 15 years, when one day he decides to do something unimaginable: quit his job. From IDW Publishing comes a four-issue miniseries that depicts an original tale about the supernatural troubles of a fast-food chain employee. Created by writer Scott Bryan Wilson and artist Liana Kangas with colors by Gab Contreras and lettering by DC Hopkins, Trvé Kvlt #1 bends multiple genres to his will.
Marty was very young when he started running the grill at Burger Lord. At that time it was a turning point in his life, but after 15 years in the same station, he is tired of the catatonic phase he is in. After weeks of thinking and planning, the time has finally come for Marty to go. , but not before robbing all the stores in the mall. To put his crazy plan into action, he dons a mask and goes from store to store, taking everything from their cash register at gunpoint until he gets greedy and takes a mysterious package from a truck. delivery in the parking lot.
RELATED: REVIEW: Marvel's Edge of Spider-Verse #2
Quite simply, Trvé Kvlt #1 is a slow burner, but such a reductive assessment does a disservice to the underlying layers presented in the tale. Writer Scott Bryan Wilson places the reins of the narrative entirely in the hands of the protagonist, who moves and turns at his whim. The reader assesses the situation through Marty's eyes as he zigzags through his past and present, drawing parallels and contrasts in his storytelling. Flashbacks provide additional exposition that the current storyline doesn't have the opportunity to. Trvé Kvlt #1 lays its foundation with the heavy use of dialogue, and in a tale that uses a slice of everyday life as a base for the narrative while also indulging in crime and the supernatural, there are bound to be grains of dry humor around it. . This is presented in a nuanced way, keeping the first issue as simple as possible without unnecessary detours.
Liana Kangas' work is steeped in reality, bringing people from different strata of life and with different body types into a melting pot of working-class representation. Using just a minimal amount of dashed lines, she outlines the figures in spacious surroundings, leaving racks of negative space in the background. Colorist Gab Contreras uses this to her advantage and brings the pages to life with retro colors that create an old-world vibe throughout the book, fittingly resonating with Marty's claustrophobia. Not only the colors, but also some meticulously placed patterns and fonts anchor the nostalgia of the 80s in the minds of readers. Since there is no hatching involved anywhere, Contreras uses alternating shades of dark and light colors to create shadows and give the frames volume.
RELATED: REVIEW: Marvel's X-Men #13
Trvé Kvlt #1 is laid back in its approach. At no point does he succumb to the thrill of the crime or revisit the overhanging mystery twice for the rest of the book. Rather, like Marty himself, the issue runs its course after an initial few pages of excitement and settles into a maze of sentimentality and regret. Without picking up the pace, the narrative generally feels lackluster as people talk more about their lingering problems than noticing the predicament they're facing. Fortunately, with the characters blossoming into individual personalities and the consequences of Marty's action catching up with him, Trvé Kvlt #1 reaches the point where the tale finally meets its devilish nomenclature.